<<

News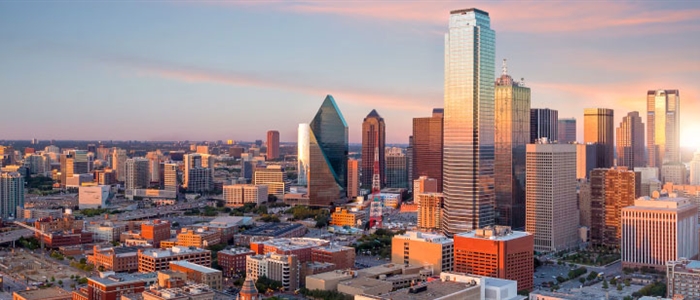 Eighth Annual Trigild Spring Lender Conference Addresses Compelling Topics Impacting CRE, Finance Industries
05.09.2019
The impact of natural disasters on commercial real estate, the sharing economy and a robust hospitality industry were among the many compelling topics addressed at the eighth annual Trigild Spring Lender Conference held recently in Dallas.
Held at the Hotel ZaZa, the two- day event drew participants from around the nation, who convened to examine trends and conditions in the commercial real estate (CRE), finance and lending markets. Scott Head, one of Trigild's new managing partners, noted that "it is critical that we, as an industry, gather to discuss what we are seeing whether by region, asset class or sector – the 360-degree approach is so beneficial to strengthening and reinforcing best practices." Trigild managing partner Chris Neilson added, "we are really pleased to be able to provide a forum for so many respected CRE industry leaders to participate in these important conversations."
Peter Muoio, Ph.D., executive vice president at Irvine-based Ten-X, was the keynote speaker and discussed "A Tale of Two Cycles" an overview of both the economic and commercial real estate cycles – touching on all asset classes: hotels, industrial, office and multifamily.
While Ten-X data reveals the CRE transaction deal volume totaled an impressive $537 billion at the conclusion of 2018 – the second-largest year on record for CRE sales in the U.S. – Muoio cautioned conference attendees the CRE boom and the economic expansion are showing signs of age. "The world economy is weaker, and commercial real estate in particular has a late cycle feel," he said. "The current economic expansion in the U.S., now the second longest in recent history, eased investor concerns and fueled CRE growth throughout 2018; however, this is not translating into further CRE pricing growth."
Muoio noted "the pricing climate remained stagnant in the early months of 2019 as it was throughout all of last year. Supply is picking up across segments in many markets – we are at the state in the cycle where market/property section is paramount."
The bottom line? "CRE prices are flat, mirroring weak fundamentals."
On a positive note, the labor market and consumer spending continue to drive the overall economy. "The labor markets remain a key engine of the expansion," he said. "Job growth is strong, and unemployment is extremely low."
Muoio touched on various trends impacting all CRE sectors – including multifamily, industrial, office and retail. Highlights include:
Demand for multifamily is cooling, but rents continue to escalate.
Homeownership is edging up. Household formations sold.
Tight inventory and buyer demand have fueled home price growth.
Increased development is causing a rise in vacancies.
Despite a robust labor market, a huge pool of millennials remain in their homes.
New demand drivers benefitting the industrial sector: e-commerce, cloud computing and cannabusiness.
Technological evolutions are changing workstyles and constraining demands.
The brick and mortar retail segment continues to be hurt by the accelerating growth of e-commerce and shift in spending experiences.
Many investors increasingly view retail as a redevelopment play with shopping mall owners repurposing malls into mixed-use spaces.
Hospitality fundamentals remain healthy, but the sector faces a high cyclical risk due to its correlation to GDP growth.
Airbnb and other homesharing sites remain a threat to the hospitality industry.
Natural and Unnatural Disasters Impact on CRE
A spate of recent natural (and unnatural) disasters – from hurricanes to wildfires – have had severe consequences for the real estate industry.
A panel at the conference – moderated by Alan Feld of Sheppard Mullin Richter and Hampton – addressed this topic, examining some best practices for disaster management. Suggested tactics for real estate professionals include:
Organize a dedicated disaster management team to review, monitor and update disaster status with the ability to develop strategies and implement decisions.
Ensure/update communication lines and points of contact are documented.
Establish immediate dialogue with investors, servicers and other impacted parties.
Have a plan in place to assess property level impact and damage estimates.
Develop plan(s) for managing risk/loss exposure and implement appropriate responses.
Transfer loans to special servicing if applicable.
Obtain "clean-out" or immediate repair plan from borrowers to minimize risk of further damage. Timely updates are important; accurate reports are better (best).
Understanding all the issues provides the basis for formulating any resolution strategies.

With erratic weather patterns increasingly impacting the real estate sector– industry data reveals in 2017 estimated overall losses due to natural catastrophes topped $165 billion – response and management of catastrophes will become paramount. As hurricane, flooding and wildfires increase in frequency and intensity, the challenge lies in measuring and minimizing future risks.
Hotel Industry on a Roll
Moderated by Jim Butler, chairman of JMBM Global Hospitality Group, the hospitality panel examined "Checking In: What's Happening in the Hospitality Industry," providing an analysis of ADR growth, occupancy, RevPAR and other economic indicators of how the hospitality market is performing.
Data demonstrates that nine years into the cycle, occupancy and RevPar growth is still strong.
The panelists agreed the hospitality fundamentals remain healthy as growing demand mitigates the effects of new supply nationally. Furthering growth in this arena: consumers are in search of experiences, and business travel is robust. Trigild Vice President, Kevin Berry observed that "even though demand is still higher than current inventory, the first quarter of 2019 saw a lower than forecasted RevPAR increase of just 1.5% while occupancy was flat in most markets. This slow-down in growth was not expected until the end of 2019 or beginning of 2020. This slowdown in growth is being watched closely by hoteliers, especially with the rise in operating costs including labor."
Possible challenges for the industry include the uncertain impact of new supply and possible overbuilding in certain segments and in some geographic markets. But according the Butler, "the hotel industry could generally continue to do well (but with slower growth) at least until 2020 or 2021 unless something currently unseen causes the economy to take a nosedive and brings the hotel industry along with it."
Muoio also addressed the hospitality segment, noting "hotel is a hot property type right now across the board with momentum up in all regions except the Southwest. With a strong labor market, consumer spending on travel remains strong."
The next Trigild Lender Conference is set for October 23 to 25, 2019, at the historic Hotel del Coronado in San Diego.